---
Fornoff Electric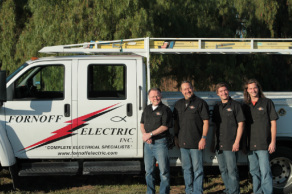 Fornoff Electric is a full service and skilled at all types of lighting design and
specialty areas, including custom installations, tenant improvements, electrical
upgrades, inspections, and service work.
Mission : "To provide dependable, first rate electrical service to the community"
Phone : (805) 496-9620 / Text: 805-558-3532
Contact: Mark Fornoff
E-mail :
mark@fornoffelectric.com
Website :
www.FornoffElectric.com
Find Us On Facebook : www.facebook.com/fornoffelectric
---
---
FX of Nature Water Features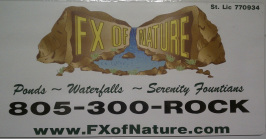 FX of Nature is Landscape company that offers a wide variety of landscape services. Even though our specialty is water features, we also design and install full landscaping, irrigation, new sod, rock walls, and now offer artificial lawn and putting green installation.
Phone : (805) 300-7625
Contact: Kent Boxberger
E-mail : Fxofnature@msn.com
Website : www.FxofNature.com/
Find Us On Facebook : http://www.facebook.com/FXofNature
---
---
BUDGET BLINDS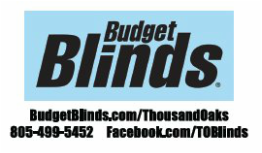 We're all for empowerment and a can-do spirit, but choosing, measuring and installing window coverings is something that's best left to the pros. Precisely why you'll love working with the Design Consultants at Budget Blinds. We'll bring samples, swatches and styles to you, so you can see how they look in your home.

Sure beats running from store to store or taking your chances online. We'll measure your windows, do the ordering, inspect your window coverings on delivery, bring them to your home, install them perfectly and empower you with our "No Questions Asked Warranty"†! It's never been easier to get exactly what you want. Let's get started on your new window coverings, together!


Office: 805-499-5452
Cell: 805-236-8784
Contact: Roger Philipp
Email: rphilipp@budgetblinds.com
Website: http://www.budgetblinds.com/
---
---
---
DH3 Surfacing Inc.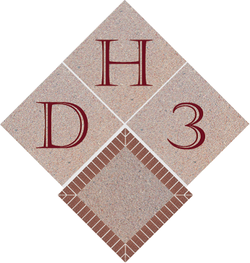 We at DH3 Surfacing, Inc. are your interior & exterior resurfacing specialist. Specializing in tile & stone installation plus concrete restoration. We are a locally-owned family run business, and we pride ourselves on being positive members of our community. With 20 years of experience, come "Discover the Difference" in our quality craftsmanship and customer service. DH3 Surfacing installs all types of tile & stone: marble, porcelain, ceramic, slate, glass, travertine, mosaics and more. We can convert your tub-shower into a brand new walk-in shower, give your kitchen a completely new look & design an amazing outdoor BBQ space to entertain in. Take a look at some of the pictures we have of our
five-step program that restores and beautifies old concrete. Our scientifically formulated system has been engineered to bond permanently to concrete and withstand the many damaging elements concrete is exposed to. Save yourself money by not having to hassle with tearing out old cracked concrete.
Phone : (805) 988-1971
Contact: Donnie Haynes
E-mail :
donnie@dh3surfacing.com
Website :
www.DH3surfacing.com
Find Us On Facebook : Soon to come
---
---
---
CORE BUSINESS CONSULTING, Inc.
Based in Ventura County, Right Way Insurance is an independent full-service brokerage. We specialize in hard-to-place industries such as the moving companies, construction, manufacturing and many others.
With access to over 100 insurance companies we always make sure your company is protected by the best insurance companies at the most affordable rates for your unique needs. We don't work for the insurance companies – we work for you!
Cole Groszewski
Right Way Insurance Services, Inc.
Info@therightwayins.com
Direct:
(805) 214-8348
Fax:
(805) 834-0010
​
---
---
My Window Solutions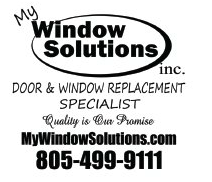 Phone: (805) 499-9111
Contact Name: Parry Annis
Email: parriannis@gmail.com
We
bsite:
http://
http://mywindowsolutions.com/
Window Solutions is the best place to get your replacement windows and doors. Our specialties are windows and doors, and nothing else. We have vast experience in all aspects of window and door replacement. Our expertly trained technicians are ready to serve you in Ventura County and all surrounding areas. Since we are a locally owned business, you can rest assured that you will get personalized service for your replacement door and window needs. Energy savings, sound eduction, and added value to your home are what a well done window job will do.
---
---









Major D. Clutter is Southern California's garage and home organization specialist. We are a family-owned business whose mission is to help our clients find easy and affordable organizing solutions.

We know the process of converting messy garages and interior spaces into functional work and living areas is a priority with many homeowners. At the same time, fighting through the jungle of "stuff" that has accumulated over the years can be a significant source of stress for many people.

Our organizing solutions will clearly define your garage or home spaces and organize them in a way that compliments your current lifestyle.

Phone: 818-9396-1287
Contact: Kaylene Fornoff
Email: kaylene@majordclutter.com
Website: http://www.majordclutter.com/
---
---
---